Our Ecoliveoil in the Periódico Extremadura!
Posted on: 05/19/2016 11:13:32
Category: News| Author: Ecoficus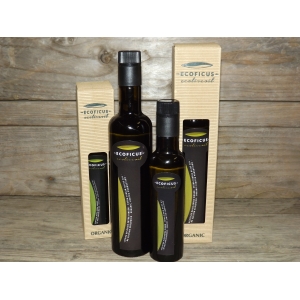 The 2016 Alimentaria Fair in Barcelona was a success for Ecoficus and our extra virgin olive oil caught the attention of a local newspaper:


"Ecoficus tackles the top-range Olive oil market. Ecoliveoil: The company's new challenge
Gourmet and organic products derived from dried figs are Ecoficus' flagship products. Now, the family-owned company takes a step forward and tackles the top-range olive oil market.
Under the "Ecoliveoil" brand, the company introduced, during the Alimentaria fair in Barcelona, an
organic extra virgin olive oil
cold-pressed, with only 0.2% of acidity and a fruity aroma.
The production of this authentic olive juice is limited to 5,000 litres from their own olive trees, giving an exclusive olive oil with great properties."
http://www.elperiodicoextremadura.com/noticias/monograficos/ecoficus-abre-mercado-aceite-oliva-mas-exclusivo-ecoliveoil-es-nueva-apuesta_934705.html
Share on social networks