Ecoficus gets Kosher certified
Posted on: 08/06/2018 09:18:54
Category: News| Author: Ecoficus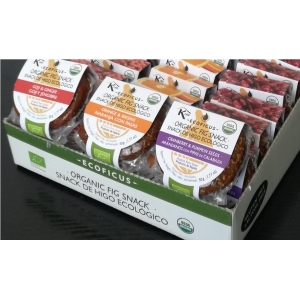 Ecoficus has been recognised with the Kosher certification. Beyond validating our products as "allowed" for the Jewish and other religious communities, the kosher seal proves the high quality and excellence of our products.
What is and how 

Kosher certificate is obtained?
The Hebrew word kosher refers to food or places "prepared or kept in conditions that follow the rules of Jewish law". According to the Jewish tradition, the intake of food is subjected to strict rules enlisted in the Bible and mentioned in detail either in Talmud and other Jewish codex.
The decision to declare any food or place as "Kosher" is taken by a Rabbi, representative of a certifying agency and directly in charge to validate the product. After a meticulous and rigid procedure of implementation and verification, including the inspection of our facilities and the analysis of the production of our organic figs and derivatives, Ecoficus has been kosher certified by KLBD.
KLBD is based in London and operates in more than 60 countries, being one of the leading Kosher certifying companies around the world and the first in Europe.
Kosher: a seal of quality
In Ecoficus, we make a huge effort to provide our clients with an organic and good quality product, resulting from an exigent and sustainable production procedure.
KLBD has validated our work and effort with the kosher certification. This validation goes beyond what is "apt to eat" for Jewish or other religious communities. Kosher also characterises our raw materials and final products as of high quality, "clean" and healthy.
Sources:
Share on social networks